Frequently Asked Questions
What is The Origin Panel?
The Origin Panel is an online – community for women only, where women of all ages and backgrounds can come and have their views heard about a range of topics. Every week we post three new topics of discussion on our Discussion Corners, where you can add your opinions about and discuss topical issues with your fellow Panellists. There are monthly prizes for taking part in the Discussion Corners, as well as prizes for taking part on our regular surveys, which we use to understand women better and find out what matters to you.
How do I join The Origin Panel?
Joining The Origin Panel is easy. Just follow this link, or register on the Home Page of the website. We'll ask you to enter your email address and choose a password, then we'll give you the opportunity to tell us all about yourself in our Registration Survey. After that, you are a fully qualified member of The Origin Panel, and you can start posting in Discussion Corners and taking surveys for the chance to win prizes right away!
What incentives are on offer to take part in The Origin Panel?
The Origin Panel is an online community which offers UK women, such as yourself, an opportunity to come and talk about issues that genuinely interest them. We value your opinions and as a thank you, we offer prizes each month to those who participate in Origin Panel activities such as surveys and polls and Discussion Corners. For details on different prizes up for grabs, please see the Ways to Win page.
What are the Discussion Corners and Chat Room?
The Discussion Corners are a weekly forum where we post topics for you to discuss with your fellow Panellists. There are no right or wrong answers, we are just interested in your honest opinions and giving you a place in which they can be heard. We post three different Discussion Corner topics per week, on a range of different issues.
The Chat Room is an open to any discussion and is a place where you can air your views on topics that might not have been covered on the Discussion Corners, or where you can provide feedback on the website or on things you would like to see us ask you about. You can also chat directly with other Panellists in the Chat Room and find out more about each other!
How do I use 'Discussion Corner'?
Access the Discussion Corner via the main top menu.
Simply click on the topic you are interested in and login with Disqus. (If you aren't a member yet, then please register; you can do this easily with your Facebook or Twitter account or you can use your personal email address.) You will then be able to participate in the weekly discussions and respond to other members' comments.
I've logged onto The Origin Panel. How do I post a comment on the Discussion Corners or Chat Room?
Firstly, we're happy that you want to take part and have your opinion heard! The Discussion Corners and Chat Room are hosted by a proprietary provider called Disqus. In order to post a comment, you must first log in to The Origin Panel using your Origin Panel credentials, and then log in to Disqus (located on the top right-hand corner of the Discussion Corners).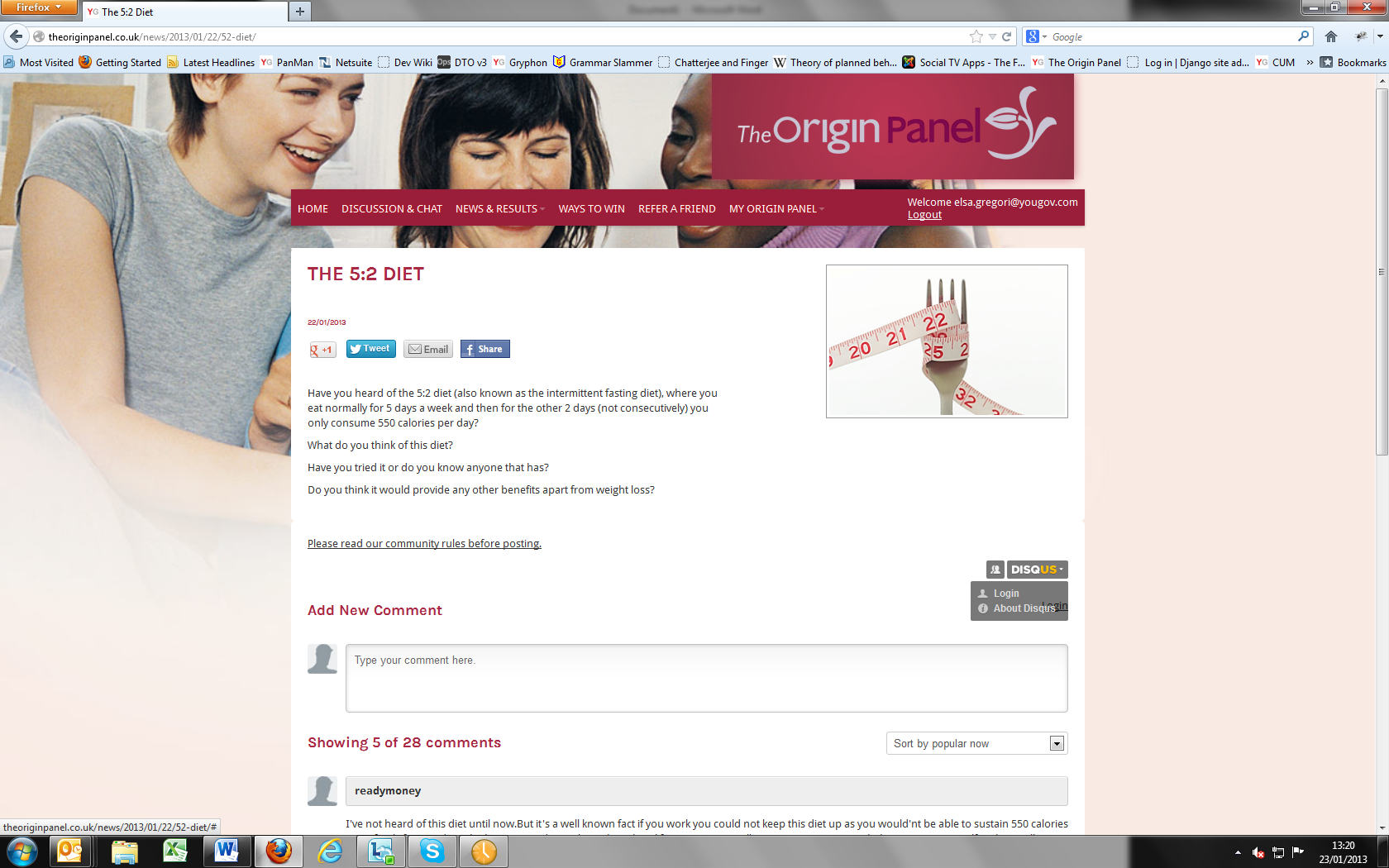 You can log in to Disqus either by creating a Disqus account or by logging in using your Facebook/Twitter credentials (no information is shared.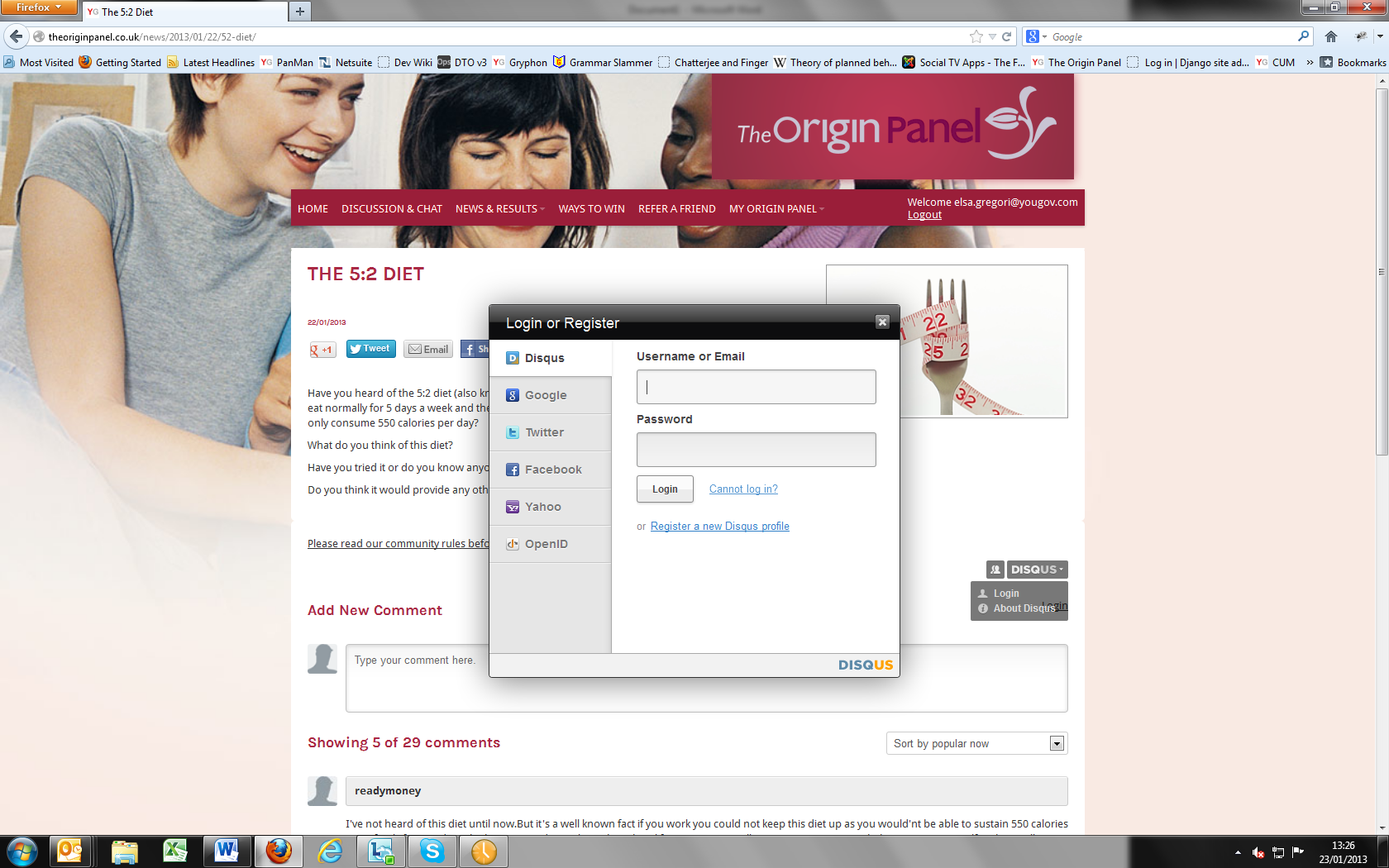 Once you have logged into Disqus, you can post on any Discussion Corner or in the Chat Room without having to log in each time.
What do you do with my contributions to the Discussion Corners, Chat Room and You Decide?
Quite simply, we use your input to learn all about you! We want to know all about women's opinions on a range of topics and what makes you tick. We also want you to gain something from the Panel, by talking to other women just like you and sharing your experiences. For examples of your responses, check our 'News and Results' page, updated every Thursday, where you can see what your fellow Panellists have said.
Why has the Origin Panel website changed?
We have updated the website to continue to improve the site for you and offer more ways for you to express yourself. We wanted to enrich the site with more content so you can always find something to read, comment on, and contribute to. We also welcome your feedback, ideas and suggestions.
How often will I be contacted?
Once a week, on Tuesdays, we send out a regular Weekly Email that tells you all about what is going on for The Origin Panel during the week, such as surveys and Discussion Corner topics. These emails contain direct links to content on the website, to make it easy for you to get on and get your views heard.
Once a month, on Thursdays, we publish a round-up of all of the month's activity in our monthly newsletter, Chatter, which is published on the last Thursday of every month.
Lastly, we will contact you when surveys become available for you to take, which total no more than two per month.
How do I stop receiving emails from you / unsubscribe from The Origin Panel?
You can unsubscribe from The Origin Panel at any time. To unsubscribe, go to My Account and click unsubscribe
How can I flag inappropriate or offensive comments in the Discussion?
There are two ways to do this. You can send an email to support@theoriginpanel.co.uk and notify us. You can also use the flag button which looks like an F and will appear if you mouse over a comment.
Where can I find the latest survey?
A list of all surveys - including any that you haven't taken yet - is on your Activity Page under My Activity.Once you've completed the survey you will automatically be entered into the Prize Draw.
What will I be asked about on Origin Panel questionnaires?
Each questionnaire will have a different topic-you will be asked about your personal opinion and thoughts on a variety of subjects.
How do I update my profile?
If your profile has changed please go to My Account from the top bar and fill in the profile questionnaire.
What if I forget my password?
If you have forgotten your password, simply visit the reset password page, input your email and then and click on Forgot Password. Your Password will be emailed to the email address you have provided most recently for the panel.
Why do I have to log in twice?
The Discussion Corners are run by a proprietary software provider named Disqus. Because Disqus is not tied to The Origin Panel website, this means that you have to Disqus to make a comment on the Discussion Corners and Chat Room. Therefore, you have to log in twice – once to The Origin Panel and once to make a comment on any Discussion Corner/the Chat Room. This is in place to ensure that the Discussion Corners are maintained as private communities where you can safely post your views, and to ensure that only genuine Panellists' opinions are heard on the site.
How do I change my e-mail address?
If your email has changed, log-in with the email address you originally provided and your password. Then simply update your email address by clicking here or by going to my account.
Is my information safe?
Yes. In accordance with the Data Protection Act, we never pass your details on to third parties or use your data for anything other than that which is laid out in The Origin Panel terms and conditions. For the full terms and conditions, please click here.
Who is Lily and what does she do?
Lily is a member of our team at the Origin Panel, who will be taking part in your discussions, to make the most of the topics and find out even more about your thoughts on subjects that matter to all of us!
I have a question that is not answered here - what do I do?
You can contact support@theoriginpanel.co.uk. You will receive a response within 72 hours
How can I give feedback on the site?
Feel free to contact us at any time with suggestions, concerns or to note problems with the website at support@theoriginpanel.co.uk
Who runs the Origin Panel?
The Origin Panel is run by YouGov Plc. You can find out more about YouGov at http://yougov.co.uk